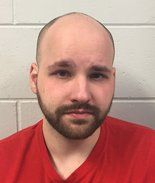 Authorities in Burlington County have charged a Lumberton man with endangering the welfare of a child, after allegedly discovering him in possession of child pornography.
According the Burlington County Prosecutor's Office, investigators discovered over 100 child pornography videos on the laptop computer in 26-year-old Domenic J. Pereira's home. The search was conducted at Pereira's residence, located in the 100 block of Stuyvesant Drive in Lumberton, New Jersey, on Friday, April 21st.
The investigation was prompted by the National Center for Missing and Exploited Children, which provided information as to Pereira's alleged illicit behavior online. During the course of the investigation, officials reportedly discovered that Pereira had uploaded an image of a nude young girl, which he allegedly intended to email. The search of his home turned up additional child pornography, which led to his arrest last week at his job in Mount Laurel.
After charging Pereira with endangering the welfare of a child, he was released on his own recognizance pending additional hearings and banned from having computers, internet access, or contact with children until the case is resolved. Notably, endangering the welfare of a child charges in New Jersey encompass a broad range of conduct, including driving while intoxicated with your child in the car and possessing or distributing child pornography.
The statute that governs endangering the welfare of a child charges, found in section N.J.S.A. 2C:24-4 of the New Jersey Criminal Code, states that it is a fourth degree crime for any person to knowingly possess or view child pornography. These offenses are punishable by up to 18 months in New Jersey State Prison. Additionally, it is a second degree crime for a person to in any way transfer (including selling, giving, lending, etc.) child pornography. These crimes are punishable by a sentence to serve between 5 and 10 years in NJ State Prison. Because endangering the welfare of a child offenses involving child pornography are classified as sex crimes, a conviction may also result in mandatory sex offender registration under New Jersey's Megan's Law.
The Burlington County Prosecutor's Office will now present their case to a grand jury in Burlington County Superior Court, at which time the jury will decide whether or not to indict Mr. Pereira.
For additional information pertaining to this case, access the following resources: