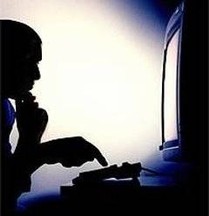 A Lumberton man was recently charged with several counts of endangering the welfare of a child, for allegedly soliciting underage girls for sex online.
After a coordinated investigation involving members of the Lumberton Police Department, the Burlington County Prosecutor's Office's High-Tech Crimes Unit, and the New Jersey State Police Digital Technology Investigations Unit, 25-year-old Lumberton resident Jonathan C. Tyler was taken into custody at the Lumberton Police Station on Wednesday, December 7th. The investigation was prompted by members of the National Center for Missing and Exploited Children, who contacted police about Tyler's conduct online.
Tyler, who currently lives on the 100 block of Rambling Road, was reportedly released from jail on February 17, 2015 after serving a nine-month sentence for another sex crime. Specifically, Tyler was convicted for showing obscene material to a minor. During the recent investigation, officials say that Tyler was discovered having sexual conversations online with underage girls. He is accused of asking the girls to provide nude photographs of themselves and offering them up to $1,000 for sex. A subsequent search of Tyler's cell phone led to further discoveries of nude photos of pre-pubescent girls.
Now, Tyler has been charged with two counts of endangering the welfare of a child and one count of attempting to endanger the welfare of a child. He was being held in lieu of bail set at $50,000 with no 10 percent option. In New Jersey, a person can be charged with endangering the welfare of a child, often referred to as "child endangerment," for a vast array of alleged conduct. To this effect, the language of the statute that governs these offenses is purposefully broad.
According to section N.J.S.A. 2C:24-4 of the New Jersey criminal code, "Any other person who engages in conduct or who causes harm to a child under the age of 16 is guilty of a third degree crime." Quite obviously, causing harm can be interpreted in many ways. A third degree crime is punishable by a New Jersey State Prison term ranging from 3 to 5 years; however, endangering charges can become more serious when the defendant has a legal duty for the care of a child or has assumed responsibility for the care of a child.
In addition, endangering the welfare of a child charges often arise in the context of child pornography. For instance, a person can be charged with child endangerment for possessing, distributing, selling, transferring, or participating in the production, filming, or photography of child pornography. Depending on the nature of the specific offense, these charges can range in severity from fourth degree to first degree crimes, punishable by prison sentences ranging from 18 months to 20 years.
For additional information pertaining to this case, access the following article: Man offered young girls $1,000 to have sex, officials say