Camden Failure to Register as a Sex Offender Lawyer
Defending Clients Charged with Failing to Register N.J.S. 2C:7-2 in Camden, Gloucester, and Burlington County, NJ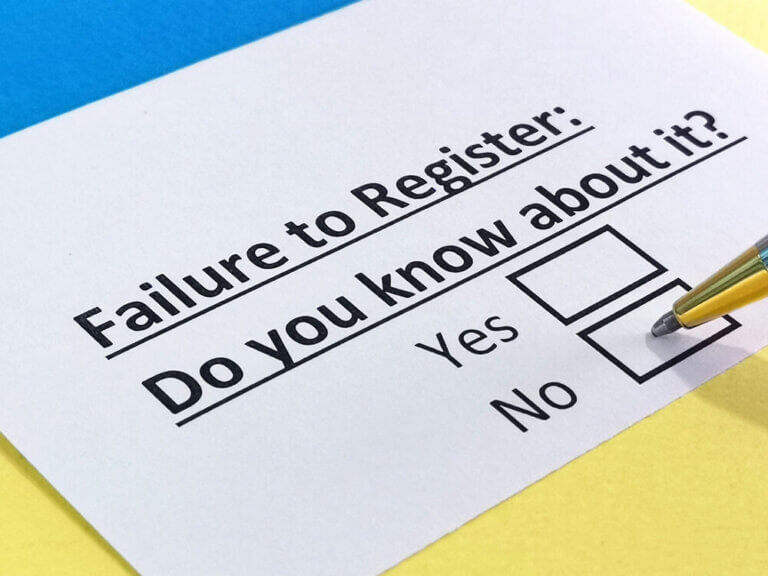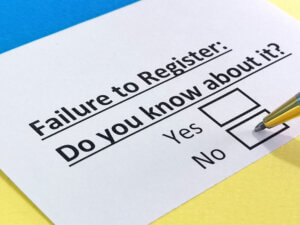 New Jersey punishes sex offenses severely, especially when it comes to child victims. The state has always been interested in protecting the public from dangerous predators, but especially after the publicity surrounding the abduction, sexual assault, and murder of Megan Kanka by a twice-convicted sexual offender living across the street. Megan's parents publicly proclaimed that their daughter would still be alive had they known a sexual predator lived nearby. In response to the well-publicized New Jersey case, congress enacted Megan's Law. The original 1996 federal law focused on providing public information about sex offenders, but the law has since expanded to cover specific registration requirements. In addition to the requirements imposed on sex offenders required to register, New Jersey imposes additional severe penalties upon those who failure to register as a sex offender or neglect to comply with all registration and reporting requirements. If you have been charged with a felony crime for failure to register, contact William C. Fay IV for immediate assistance and to discuss your defense options. He is an experienced criminal defense attorney who regularly handles sex offense convictions and Megan's Law compliance issues throughout Burlington County, Gloucester County, and Camden County, NJ. Discuss the details of your case with legal counsel of his caliber by contacting the Law Office of Proetta, Oliver, & Fay at 609-832-3202 for a free and confidential consultation.
Who is Required to Register in New Jersey
Megan's law requires those convicted of qualifying sex crimes to register with the state. They must give law enforcement their name and address, including any address changes, so the information can be available to the public. They must also report the information regarding their computer or other devices used to access the internet. The purpose of the law is to notify the public if a sex offender resides nearby or is available online to protect families, especially those with young children. All convictions for aggravated sexual assault, aggravated criminal sexual contact, child pornography, criminal restraint involving sexual conduct, endangering the welfare of a child with sexual conduct, luring and enticing, false imprisonment involving a child, kidnapping involving sexual conduct, prostituting a child, and sexual assault require registration. As such, the convicted defendant must keep law enforcement informed of their residence for purposes of updating law enforcement and the Megan's Law sex offender registry (N.J.S.A. 2C:7-1 to 7-23).
Convicted Sex Offender Required to Register: What You Have to Do
If convicted of one of the offenses requiring registration, a defendant is likely going to prison. Before release, the prisoner must register. And if they plan to move after registering, they must inform law enforcement of their intent to move at least ten days before moving. Concurrently, they must register at their new location ten days before moving. That includes those who move into New Jersey from another state. They must contact law enforcement local to their new area or the state police ten days after moving into the state. It also includes New Jersey residents who work or attend school outside of New Jersey and non-residents who work inside New Jersey. They must notify law enforcement in the municipality where they work or the campus police if they attend school. And they have five days to inform the authorities of a change in their employment or student status.
After the initial registration and updates for moves, a sex offender must confirm their address annually or, in some cases, every three months. Sex offenders classified as highly dangerous to the community may be required to verify their addresses more frequently. All sex offenders are ranked in Megan's Law tiers one through three, depending on the likelihood they will re-offend, three being the highest risk of re-offense. Tier two and three offenders get listed on the Megan's Law Internet registry, and law enforcement notifies community schools, social organizations, and those likely to meet the sex offender for tier three offenders. Tier one offenders are not listed on the internet registry but do have to register with law enforcement. Therefore, tier two and three offenders may have to report their addresses more frequently than tier one offenders.
What Happens if a Sex Offender Fails to Register in NJ
New Jersey takes sex offenses and registration requirements seriously. A convicted sex offender who fails to register as required under the law faces third degree charges. If charged under N.J.S.A. 2C:7-2 and convicted, they could be imprisoned for three (3) to five (5) years and pay up to $15,000.00 in fines. And considering the prior sex offense conviction, a judge may be more inclined to impose a prison term for one who violates any registration requirements. Ordinarily, a judge does not have to sentence a person convicted of a third degree crime to prison. There is no presumption of incarceration for a third degree crime. However, prior convictions increase the risk of a prison sentence as multiple convictions imply a lack of respect for the law and remove the non-imprisonment presumption.
Can You Avoid a Conviction for Failing to Comply with Sex Offense Registration Requirements?
It's certainly possible, especially with a good defense approach. People do make mistakes, forget about what they are supposed to do, get busy, or go through hard times. A sex offender may miss a deadline for giving law enforcement advance notice of a move or change of status as an in-state student. After all, a person convicted must register and maintain registration requirements for the remainder of their life, unless they successfully apply for Removal from Megan's Law. The younger the offender, the longer they must comply. Even juvenile sex offenders must register just like adults. Some offenders could be responsible to report frequent changes of address for decades.
While it is still a crime to fail to register or keep law enforcement timely informed of changes, understandable circumstances may carry weight with a prosecutor when considering a plea bargain. In other words, blatant disregard for the law is worse than an excusable oversight when negotiating alternative sentences to the maximum the law allows. Moreover, the prosecutor must prove beyond a reasonable doubt that the offender failed to meet a deadline, which may not be as clear-cut as it seems. An excellent criminal and sex crime defense attorney can make a prosecutor's job difficult, if not impossible, by raising doubts about each crime element that to be established for a conviction. Sometimes prosecutors do not have the facts straight, and an attorney for the defendant must show the prosecutor they are wrong. It is possible to provide evidence that a client complied with all Megan's Law requirements.
Consult a Cherry Hill NJ Failure to Register Attorney Today
Going to prison for up to five years for missing a five-day deadline by one day is extreme. You lose the right that many citizens enjoy, like owning a gun and voting. Do not take a chance on a third degree conviction on top of everything else. Since failing to comply with Megan's Law registration requirements in New Jersey elevated from a fourth to a third degree crime, it is apparent that legislators, judges, and jurors, potentially, view non-compliance as a serious crime. Communicate with defense lawyer William C. Fay, IV, if you or a loved one has been charged with failure to register as a sex offender. We encourage you to get in contact with The Law Office of Proetta, Oliver, & Fay at 609-832-3202 to discuss your unique situation free of charge.