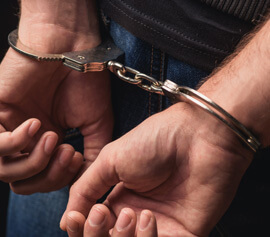 A teenager from Tabernacle is now facing charges for possession of marijuana, drug paraphernalia, CDS in a motor vehicle, and several traffic violations after being involved in a car accident in Medford, New Jersey.
Authorities say a 17-year-old girl, who remains unidentified because of her status as a juvenile, had a single-vehicle accident on Hawkin Road near East Raymond Avenue in Medford Township over the weekend. The girl was reportedly attempting to pass another car at approximately 4:55 p.m. on Saturday when she lost control of her vehicle. Although her car rolled over multiple times and collided with an embankment, she emerged from the accident unharmed.
Following the crash, police conducted a search of her vehicle, where they found marijuana and drug paraphernalia. She was subsequently charged with possession of marijuana, possession of drug paraphernalia, possession of a controlled dangerous substance (CDS) In a motor vehicle, reckless driving, improper passing, and failure to maintain a lane. She was released prior to her first appearance in the Family Division of Burlington County Superior Court in Mount Holly.
It is important to note that because this case involves a person under the age of 18, it will be handled in Juvenile Court as opposed to adult criminal court. In a juvenile case in New Jersey, the defendant's charges are typically heard by a juvenile judge in the county where they reside. In this case, the girl is a Tabernacle resident so her case will be heard in Burlington County. The standard in juvenile court is also different from that of adult criminal court, as the focus is on rehabilitation and reform of young people charged with criminal offenses.
Consider this: an adult charged with possessing marijuana is exposed to up to 6 months in jail, a $1,000 fine, a 6-month driver's license suspension, and a criminal record. In addition, possession of CDS in a motor vehicle is a separate motor vehicle violation that entails a mandatory 2-year suspension of driving privileges for those convicted. Obviously, these charges can result in severe consequences. If an experienced criminal defense lawyer cannot have the charges dismissed outright, they may seek enrollment in a diversionary program like Conditional Discharge. Through Conditional Discharge, first-time offenders who can get their charges dismissed by successfully completing a period of probation.
On the other hand, a juvenile charged with marijuana and drug paraphernalia in New Jersey has a host of alternative sentencing options. Depending on the circumstances of the specific case and the juvenile's criminal history, they may be sentenced to probation, drug treatment, community service, or a deferred disposition. A deferred disposition acts in the same way as a diversionary program. If the youth complies with the provisions, the initial charges will be dismissed.
Get Help from Criminal Defense Lawyers in Medford Township, New Jersey
As a juvenile or adult facing drug charges in Burlington County, NJ, it is important to understand all of your legal options. You may be able to avoid a criminal record and minimize your exposure to penalties with the help of a knowledgeable criminal defense attorney. William Fay is a seasoned criminal defense lawyer who has been helping juveniles and adults fight criminal charges in Medford Township and surrounding communities for years. Contact our offices today for a free consultation about your drug case.
For additional information related to this case, access the following article: Teen charged with drug offenses after accident in Medford