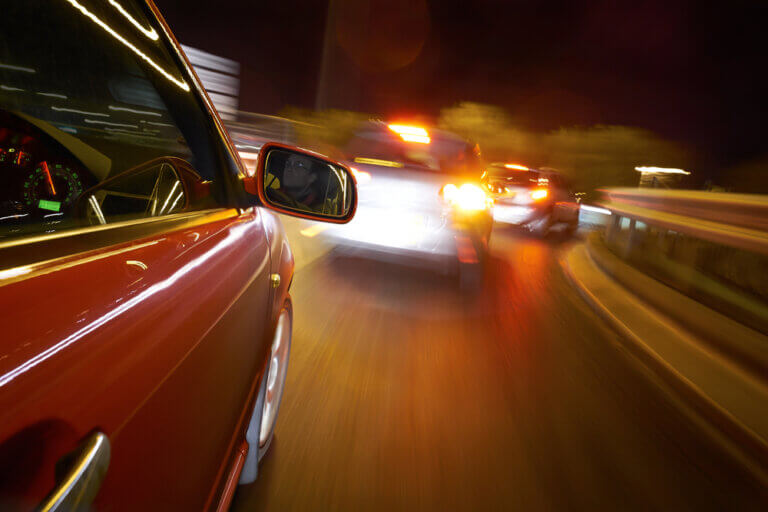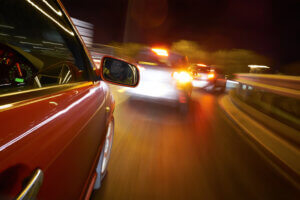 The decision to elude the police typically arises from a highly emotional state of fear or panic and can lead to endangering your life and others. As a result, the law comes down hard on those eluding the police and driving recklessly. If the police charge you with both offenses, you will probably regret your decision, considering this can enhance the consequences in your case and compound your legal troubles.
Eluding on its Own is a Serious Offense
Eluding is defined in New Jersey law as purposely attempting to escape police detention by fleeing in a motor vehicle after the police signal for you to pull over (N.J.S.A. 2C:29-2). The law anticipates two scenarios: one where the driver escapes without endangering anyone and the other where the driver does endanger others. For the first type of eluding, a driver may see the police car flashing lights behind them, but instead of stopping, they turn off the highway, disappearing and leaving the police delayed in traffic or out of range to find them. The other scenario anticipates a speeding away from the flashing lights and leading a high-speed chase, perhaps risking the safety of other drivers and passengers on the roadways nearby. The first type is more likely charged as third degree eluding, while the other is typically a second degree eluding crime since the driver risks injuring or killing another.
The Punishments for Eluding can be Severe
In either degree, eluding is an indictable crime with a possible prison sentence and a driver's license suspension. In addition to prison and high fines, a driver convicted of eluding loses their license for six months to two years.
Third degree eluding sentences range from three to five years in prison with a potential $15,000.00 fine. Second degree eluding, however, comes with a far steeper penalty. If convicted, an individual risks going to prison for up to ten years and a fine as high as $150,000.00. And worse, a first-time offender often loses their chance to avoid a conviction and keep their record clean. The Pretrial Intervention program allows first-time offenders to avoid prison, but second degree criminal convictions presumably lead to incarceration. That presumption of imprisonment does not exist for third degree crimes or lower.
And if you escaped law enforcement, they could catch up with the registered owner of the vehicle to prosecute them at their home, work, or elsewhere any time after the successful escape. The law presumes the registered owner was the one who fled, a rebuttable presumption.
Adding a Motor Vehicle Violation to an Eluding Charge, What's the Impact?
Before a jury can convict you of third degree eluding, the prosecution must establish that you operated a motor vehicle on a public roadway and failed to obey what you could reasonably recognize as a law enforcement officer's signal to stop. For second degree eluding, the prosecutor adds the flight's risking injury or death to the elements they must prove. And all it takes is a motor vehicle law violation to elevate the charge from third to second degree eluding offense. Speeding, illegal U-turns, blasting through a stop sign and driving on the sidewalk to flee the police are all motor vehicle law infractions. Again, the assumption is such unsafe driving evidence by motor vehicle law violations raises the risk that someone will get hurt or killed.
Thus, if you drive recklessly to make your escape, you compound your problems by raising your charges to second degree eluding and a traffic offense. Reckless driving is the intentional operation of a motor vehicle in a manner that likely risks injury or death to others. If a prosecutor proves your intent to drive a car recklessly, heedless of others' safety, you could spend 60 days in jail, pay a $200.00 fine, ding your license with five points, and possibly lose your driving privileges for a while. A second violation increases the jail time to three months with a $500.00 fine. Penalties may be higher for aggravating factors like driving drunk, excessive speed, and plowing through crowded intersections.
Reckless driving alone is a problem for your driving record, but its effects on eluding sentencing are even more significant.
While reckless driving is a traffic violation in municipal court, which seems as minor as a traffic ticket, its real impact is raising an eluding charge. Breaking traffic laws while escaping the police often makes the difference between possible probation for a first-time offense and spending serious time in prison. However, that does not mean you are doomed to ten years in prison either. Speaking to an experienced criminal defense lawyer with a background in successfully handling eluding and reckless driving charges can help you understand what you must do to protect yourself.
How to Avoid the Serious Consequences of Eluding and Reckless Driving in NJ
It's possible to get a better outcome if your sentence and charges are reduced, or if you convince the prosecutor and the court to accept you into the Pretrial Intervention program if it is your first offense. A prosecutor may allow you into the program when extenuating circumstances give a sympathetic context to your actions. Only a skilled criminal defense attorney can inform you how they can reduce your charges or work around them to get you a lesser sentence.
Other options you may never suspect also may be available, depending on the circumstances of your arrest and what happened in your specific case. There are defense options that can lead to a dismissal if you know what to be on the lookout for in eluding and reckless driving cases. Therefore, getting advice from an attorney familiar with both the Superior and Municipal Courts, elements of the offenses, legal nuances, and potential defenses for your separate charges is wise.
Talk to a Criminal Defense Lawyer Today
Our criminal defense attorneys handle all aspects of eluding and reckless driving charges in and around Camden County, such as Pennsauken, Cherry Hill, the City of Camden, Collingswood, Berlin, Haddonfield, Winslow, and Mansfield. Call us at (609)-832-3202 or contact us online to find answers to your specific criminal and traffic questions in Camden, New Jersey and let us do the work for you.