Police come Calling? Be Prepared to Protect and Preserve Your Best Interests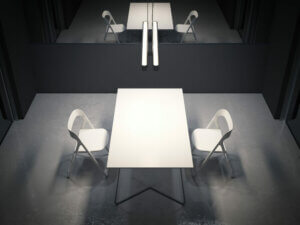 Walking into your office, you find a police officer waiting for you. Or perhaps you receive a call from a detective at the local police station. Still others may be surprised to hear the doorbell ring, followed by a random encounter with an officer who just stopped by to ask you a few questions. People find out in a myriad of ways that police officers and law enforcement officials from state and local agencies "just want to talk." They often give you a call and ask you to come down to the police station for a conversation. After answering a few questions, you feel incredibly uncomfortable and confused about their questions and your presence in the situation, wondering if it was a huge mistake to talk to them in the first place. You're not alone. When police are on the line or come calling, get the answers you need to prepare and protect your rights before continuing any type of conversation. In other words, if police have questions for you, you probably want to know what you should do from a legal professional, namely a criminal defense lawyer who deals with scenarios like this virtually everyday with a mind toward preserving your constitutional protections and possibly, your innocence in a criminal investigation or related case. To speak with a criminal defense attorney regarding your unique situation and have your concerns addressed, contact our Camden County law office at 609-832-3202 today for a free consultation.
Wanted by Police for Questioning in NJ, What Should I do?
Step 1: Consult a Criminal Defense Lawyer
If you sat down with a lawyer, they would probably ask you questions to probe your potential legal situation. If the police contact you to speak to you, they could be investigating you for your involvement with illegal activity. On the other hand, they may be sizing you up as a witness to criminal activity that you may not remember or even be aware of until you reflect and recall a suspicious encounter. They may be investigating someone else and want to get information from you about a suspect. If you know of potentially illegal conduct on your or another's part, you should reveal that during your consultation with the criminal defense attorney you choose to hire. No one else needs to, or even should, be provided with this information at the outset.
Step 2: Talk to Your Child and Your Family
The police detective that contacted you could be investigating a family member. And if you have minor children, you should know that the police may not question your minor child without a parent present. The best way to understand why the police want to speak to you about your children is to ask your children if they have been in a situation that would require the police to come by. Knowing why the police want to speak to you helps you decide if you should talk to the police. It may be appropriate for you to speak to the police with your attorney present. Conversely, you may be better served by refusing to converse with the police altogether.
Step 3: Consider Your Options with Your Attorney
No matter the case, if you or your loved one is under suspicion of breaking the law, you want to hire a seasoned criminal lawyer and get advice. In that way, you and your legal representative can make the best decisions for you and prepare for future events, like possible arrest and detention. Your lawyer can call the detective to find out why there is a request or need for an initial visit and questioning. That may determine what course to take. For example, your attorney may advise you not to speak to the detective or only speak to the detective with your attorney present.
Step 4: Do Not Speak to Police Alone
You do not want to talk to the police on your own. Your answers, which you may think are innocent, may help the police build a case against you. In other words, you are at a significant disadvantage against a trained police officer whose job is extracting information from crime suspects. Since suspects do not typically admit to a crime, the police must coax into revealing details a detective knows how to incriminate the suspect during interrogation. One thing you most likely will not accomplish in a one-on-one session with a detective is giving them what they want so they go away. You may feel like telling the truth will endear the detective to you, but that is not the case. Their job is to investigate and help prosecute crimes.
Besides, you do not know the detective's intentions or progress along an investigation. They may have already gathered enough evidence to turn over to a prosecutor. The prosecutor is the one to decide whether they will lodge charges against you in most cases. As such, if you refuse to speak to the police upon their request, you are taking the most logical step in your defense by not giving them more information to solidify a case against you. You have the constitutional right not to speak to the police and to have a lawyer represent you in a criminal matter.
Step 5: Prepare before Submitting to Questioning
During a police interview, your attorney can instruct you before and during the exchange, objecting to questions that may cause you to incriminate yourself. With expertise in criminal evidence and procedure, a criminal defense attorney knows how the police gather evidence and how the prosecutor relies on that evidence when seeking a conviction. Therefore, an attorney can keep you from divulging more than what is necessary to be cooperative without jeopardizing your defense to potential charges. And if you must defend your innocence against criminal charges, a defense attorney can prepare you for each portion of the entire process from arrest, to detention hearing, to arraignment, pre-indictment conference and pre-trial hearings, and trial.
Step 6: Have a Solid Defense for What Happens Next
Along the timeline of a criminal case, a good lawyer works to build a solid defense while communicating with the prosecutor and the judge about a dismissal, lesser charges, plea bargain, and other procedural and substantive issues. A prosecutor must prove you committed the crime they charge you with by convincing a jury that your actions constitute each element of a crime. According to how the law defines the charged offense, a judge or jury must believe that you committed a crime or crimes beyond a reasonable doubt. If found guilty, a judge decides the appropriate sentence given the circumstances, your criminal history, and other factors. The legal sentence ranges for each crime allow the judge to craft a sentence tailored to each defendant, and your attorney has the opportunity to argue for the mitigating factors that entitle you to a lesser sentence if you are ultimately convicted.
Lawyer Up – Address Your Concerns and Get Legal Guidance in Camden County, NJ
An excellent criminal defense attorney can make a difference in the outcome of your case every step of the way if the state brings charges against you. So, if the police want to speak to you, seek the advice of a lawyer before you do anything else. Tell them everything you know about what you believe the police want to know. They will want to know the questions they asked you and your answers to find clues to the investigation subject. Do not hold back, as your criminal defense lawyer is dedicated to protecting you. The more your attorney knows, the better able they are to represent you and assist you. If police reach out to you about answering some questions in Cherry Hill, Camden, Lindenwold, Gloucester, Haddon Township, Berlin, Voorhees, Cinnaminson, or another town in the Camden County area, our legal team can help. Contact 609-832-3202 to get a free consultation with one of our criminal defense lawyers who have years of experience handling police interviews, local prosecutors, and criminal trials. Your future may depend on it.